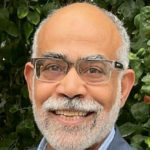 Dr. Radhi H. Al-Mabuk is professor of Educational Psychology at the University of Northern Iowa, a position he has held since 1990. Dr. Al-Mabuk served as the Department Head for four years, and directed the Master Program in Professional Development for teachers for more than a decade. Currently, Dr. Al-Mabuk serves as the Director of the Ad Astra Institue in Chicago, formerly known as the Future Institute Research Center. This Center, which currently consists of 9 research fellows, conducts research on transitions students make from grade to grade, and from formal schooling into higher education and the world of work.
Dr. Al-Mabuk received his BA degree in Social Studies education in 1981 from St. Mary's College (now University) in Winona, MN, his master degree in Counselor Education in 1983 from Winona State University, Winona, MN, and his doctorate in Educational Psychology with emphasis on human development and learning in 1990 from the University of Wisconsin-Madison in 1990. Dr. Al-Mabuk's current research interests are threefold: comparative education; academic transitions; and psychology of forgiveness and revenge.
When not involved in academic pursuits, Dr. Al-Mabuk enjoys traveling in and outside the U.S., reading, wood-working, and hiking in his favorite Northern Minnesota trails.