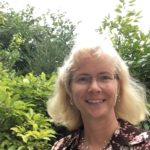 Linda Shenk joined the Board of Directors for Humanities Iowa because she is interested in Iowa's stories – from those of decades of diverse immigration to those of our prairies and rivers.
Linda is an Associate Professor of English at Iowa State University. In her research, she applies her background in storytelling and performance to how researchers and community members can co-create narratives that foster relationship building, action, and resilience. She teaches courses that bring together Shakespeare, Climate Change Theatre Action, and community empowerment. She can often be found out walking with her family and their three dogs, and she loves hiking, particularly at Dolliver State Park.
These connections between the humanities and work in communities is one of the key reasons she is delighted to serve on the Board of Directors for Humanities Iowa.