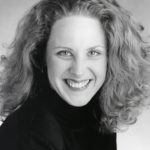 Kay Krekow, soprano and accompanist, is the Managing Director of The American Center for Puccini Studies and an internationally acclaimed interpreter of the operatic heroines of Giacomo Puccini. Described as one of the finest Puccini sopranos of her generation, she has sung world premieres and standard operatic and oratorio repertoire at The Kennedy Center, Carnegie Hall, and The National Cathedral, as well as in Germany, Italy, and the Czech Republic. She has murdered villains; thrown herself from tall buildings; stabbed herself to end it all; died of consumption, thirst, grief, and mysterious opera death; become a vengeful dancing zombie bride; had tragic love affairs; poisoned herself; run a saloon; and also ridden off on a million dollar stallion into the sunset to live happily ever after….all in the name of opera!
Raised on a farm in Iowa—to which she has now returned—she can drive a tractor, plow a field, ride a horse, milk a cow, slop a hog, hang a shelf, bake a blue-ribbon peach pie, and then sit down and play and sing a Puccini opera. A graduate of Stephens College, Ms. Krekow received a Bachelor of Fine Arts in Vocal Performance and a minor in Music Education and Organ. Additional studies brought her to the East Coast and she has since been in constant demand as a singer, voice teacher, and accompanist, although she is most beloved for her cooking skills and Sunday afternoon croquet parties. Ms. Krekow (who is also Mrs. Dunstan) is a specialist in the vocal music of women composers and has presented concerts featuring the poetry and music of women troubadours, songs of the women of the Italian Renaissance, the works of 19th Century opera divas, and is a frequent recitalist presenting her original program, She is Music: a thousand years of vocal music by women composers ( SheIsMusic.com ).
She was recently inducted into her hometown's Hall of Fame for her lifetime of musical and educational achievements….yes, you CAN go home again!